---

Sunday, April 23

1:00pm – Re-enactment of Geauga County Commissioners' meeting to create Township @ the Art Showcase, Kenston High School Auditorium.
Sunday, July 2
4:00pm – Old-timers Baseball Game at the Kenston High School Baseball Fields; Bainbridge Township artifacts, historical information, etc. at the Bainbridge Twp Bicentennial Tent prior to the Fireworks display that night at the High School
Tuesday, July 4

 
12:00am – 4:30pm – Festivities at the Town Hall/Heritage Park with tours of the Bissell-Tucek House, Police and Fire Departments; as well as slideshows in the Town Hall of Geauga Lake and other areas of Bainbridge Township.  Cake and ice cream, activities for the kids and more.  See flyer below for event details.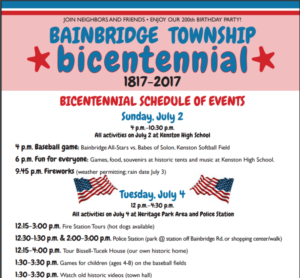 Saturday, August 5

 
12:30pm – 6:00pm – Ox Roast at Centerville Mills; display of Bainbridge Township history during event
**Dates and times of the events are subject to change.