Don't let the future pass you by…
The Bainbridge Township Historical Society is looking for volunteers to help us preserve our community's vast and interesting past. Each year we are losing precious time to spend with our senior generation, gifted with the experiences and memories of Bainbridge's rich heritage. They hold the key to appreciating our past. We all need to do our share to help preserve this priceless information, adding or own recollections of all future generations.
Program Meetings are held at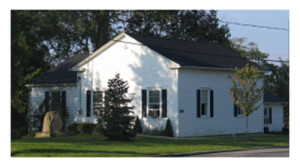 The Burns-Lindow Building
8465 Bainbridge-Solon Road
Bainbridge Twp OH 44023
7:30 p.m.
Second Wednesday of the month
September through May
~Everyone is Welcome~
~Refreshments~
Click here: Bainbridge Historical Society Membership Form (PDF)
Just a reminder — Our constitution states that membership dues are to be paid in September of each year. Deadline for payment is December 1. Those current members who have not paid by December 1 will not receive a newsletter. Annual dues are: $10 for singles, $20 for family. Life memberships for Individual or Family – $100. Make checks payable to Bainbridge Township Historical Society (BTHS). Payment should be given to Grace Henry at meetings or mailed to her at 7589 Pettibone Road, Chagrin Falls, OH 44023.